History of Sabakon
AD Sabakon began as Anime Day Vegas in the summer of 2011 as a way for the anime lovers of Las Vegas to enjoy spending time together while waiting for the bigger anime conventions in the fall season. The first Anime Day was held in July 2011 at the Circus Circus Adventuredome Themepark and included a cosplay contest, dance contest, trivia games, and much more.
At the request of many attendees, Anime Day Vegas returned to the Adventuredome in April of 2012. With the inclusion of a DDR tournament, a dance contest, and an exhibitor hall, the convention was a huge success! Cosplayers brought their best to the cosplay competition, DDR competitors worked up a sweat, and champions came home with trophies and prize money. With an audience growth of over 300% from Anime Day '11 to Anime Day '12, Anime Day Vegas was destined for another year.
From Anime Day Vegas in '12 to Sabakon in '13, the convention growth more than doubled. Sabakon moved to Texas Station for its bigger space and more private meeting rooms. With the con's very first guests of honor (Tiffany Grant, Jessica Straus, Todd Haberkorn, and Richie Branson), 2013 was a very successful year.
2014 was very successful at Alexis Park resort, with guests like Chuck Huber and Kyle Hebert, as well as a great performance from Aimee Lee Lucas and MVP Elite. The con moved yet again to an even bigger location at Alexis Park Resort. 2015 and 2016 were once again held at Alexis Park Resort with Sabakon bringing out its first Japanese Band in 2016 with Roli Angels. Sabakon 2017 was one of Sabakon's largest years, with an attendance of about 2,200 people. Sabakon 2018 is revving up to be one of Sabakon's best year's yet!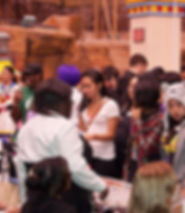 Sabakon Founders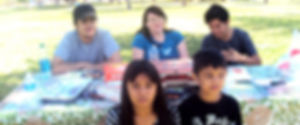 One of the very first Anime Day meetings at Sunset Park.
Left to Right:
Jose Torres
Gebrel Gamutan
Katie Short
Michael Gamutan
Chris Lueck
Dani Gamutan (not pictured)