Ouran Ball
Sunday November 19th, 2017 [ 9:00pm - 12:00am ] Main Events
For the first time ever, the King of the Ouran High School Host Club will be holding a formal masquerade ball at Sabakon! All are invited, and all are expected to dress the part and have a lovely time at this elegant evening event. Your lovely host Tamaki will be available to dance with all the fair maidens. Joining him will be the host club and special guest. Be ready for a fantastic evening.
This is a formal ball, so we ask that everyone come dressed nicely to enjoy the evening!
Think prom. We're not necessarily asking our guests to come in a ball gown or a tuxedo or anything grand, but we do expect a least a bit of effort to look nice. Formal cosplay is allowed and encouraged! There will be someone at the door checking attire, so dress sharp!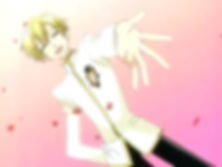 Examples of Acceptable Attire
Dresses, tuxedos, tailcoats, ties, formal military dress, and blazers are all welcome! Simple outfits are fine, complex outfits are fine, and everything in between as well. We ask everyone to keep their dress selections tasteful.
Examples of Unacceptable Attire
Please don't bring any beach attire or casual attire, as you will be turned away at the door. Keep your flip flops, t-shirts, tank tops, hoodies, and jeans at home.