Voice Actor Luncheon
Location: Ninja Room B
Time: Friday [ 8/19 ] from 2pm - 3pm
​
Lunch is much more interesting with special guests Cherami Leigh and Ben Diskin! Hang out with talented voice actors and eat a great meal.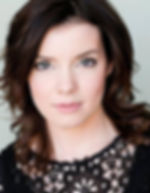 1. Food will be self-served or "buffet-style", but we do ask that guests be mindful of other guests and not waste any food or take a large amount of one particular type of food. Food can not be taken out of the event space.
2. Tickets may be purchased during the con at the programming table, but we encourage purchasing tickets early as space is limited!
3. Children under 3 years of age who are attending with a parent do not have to purchase a ticket.
4. Guests must also have a Sabakon badge or wristband to attend the event (in addition to purchasing a ticket online).
5. After purchasing your ticket online, your name is automatically added to the guest list. You will need to bring an I.D. to check-in at the event.
​
6. Seating is first-come, first-serve!
​
7. Participants must be seated for a majority of the event. (Please don't stand around behind Cherami and/or Ben!)
Luncheon Rules
Price includes 1 seat and buffet food options for the duration of the event.
Registrations are CLOSED for this event