Volunteer at Sabakon 2019
The Sabakon Volunteer System is empowered to provide good service to all that attend. Volunteers will work through multiple facets of the convention flow; providing good experience for their resume. The Volunteer System is an entry point to be more involved with the community, the convention, and elements of the work force.
Convention Volunteer Pass
Each volunteer is to receive a convention pass for this year's Sabakon 2018. A deposit is made to ensure responsibility for both Sabakon and the Volunteer. Upon successful service and fulfilled requirements, the deposit is returned. The greatest volunteer experience is achieved with the following requirements:
​
Completed Registration Form

Signed Release of Liability/Parental Permission Form

Completion of assigned missions (each volunteer will receive 5 shifts over 4 days)
What to Expect if you Become a Volunteer
Interns receive a 3-day badge for the convention.

Interns will have access to the provided staff breakfast and lunch/dinners.

Interns will receive recommendations for their resume/applications from our con chair Evan Egbert, Diego Torres Ibarra and other staff.

Successful intern work will lead to interviewing for full staff positions for the following 2020 year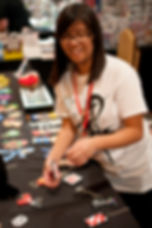 Volunteer Work Reference
Each volunteer will be exposed to multiple facets of a work environment. Upon complete performance of the missions assigned, each volunteer will have earned the ability to use our Volunteer Director as a reference for their resume and future job applications.
The volunteer work will encompass several positive work habit skills.
​
Time Management: each volunteer has set shift schedules that require on-time performance to cover the security and responsibility the company gives its guests.


Customer Service Training: Volunteers are trained and held to customer service standards inspired by the Forbes 5 Star standards; which are required by many Hotel/Resorts here in Las Vegas.


People Skills: All of the volunteer work involves interacting with people. The volunteers will have to interact with guests to ensure safety and address concerns, interact with other volunteers to work together, and interact with higher staff to communicate the workings of the event.


Responsibility: The volunteer work covers a big part of handling the customer flow and performance of the event. Our volunteers are motivated to perform their tasks with great care; empowered with an understanding that their work brings together an amazing result. Each volunteer carries a vital role in the overall experience our event brings to its guests.
Important Dates
Coming soon!
Check back to see important volunteer dates for Sabakon 2019!
​