Volunteers
Volunteer information for 2017 will be coming soon!
Volunteers are the backbone of Sabakon, and we could not hold a great convention without them. Volunteer opportunities range from positions at the registration desk, to security, to the game room, to the festival, and much more! We could always use some more help around the con, so don't be shy -we don't bite!
Rules
1. All volunteers must be age 16 and up. Volunteers who are under the age of 18 MUST have their legal parents/guardian sign a consent form during one of the mandatory pre-con volunteer meetings.
2. All volunteers are required to attend a pre-con meeting, about a month or two before the convention. This is required so that the Sabakon staff may meet all of you and so that you can get your schedule, which will be made that day. There will be 2-3 volunteer meetings, so that there will be a bigger opportunity for people to make it. You only need to attend 1 meeting.
3. Although we try to accommodate all schedule requests by volunteers, we do not guarantee that you'll get the schedule you ask for. All schedule requests should be made during the volunteer meetings, and we will let you know then and there whether we'll be able to accommodate them or not.
4. Volunteers are required to pay a $25 deposit to the convention in order to secure their position. This deposit is to ensure that volunteers don't take advantage of the free badge by picking it up from registration and then not showing up to their scheduled hours. The $25 deposit will be refunded at the completion of your schedule at the registration desk. Volunteers who do not complete their scheduled hours will not be refunded the $25.
5. Volunteers are required to work a minimum of 4 hours per day for the duration of the con. These hours can be split into different days or can be done all in one day, depending on your preference.
6. A green room will be provided (in the form of a hotel suite) for the volunteers so that bags, cosplays, etc. will have a save storage space, and so that volunteers can have some light snacks. You are welcome to relax in the green room when you're not working, so long as you keep it tidy and remember that the snacks and drinks are to be shared amongst all volunteers.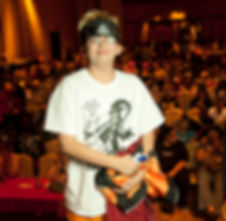 Code of Conduct
1. We expect all volunteers to treat their fellow volunteers, staffers, convention guests, hotel staff, and attendees with the utmost respect.
2. We do not mind scheduling friends to work similar volunteer schedules, so that they may enjoy the convention together during their off times, however volunteers are expected to be focused on their assigned tasks with professionalism during their work hours.
3. Should there be any emergencies during the convention, volunteers are expected to inform the nearest staffer immediately, so that the situation can be handled swiftly. We do not expect you to put your life at risk or place yourself in a dangerous situation. Your safety is one of the top priorities of the Sabakon staff.
4. Depending on the schedules, volunteers may be given one or two 10-15 minute breaks between their work hours. Volunteers are expect to keep their times sharp and be on time upon returning from breaks.
5. The volunteer green room is a place for volunteers to relax and feel safe in. Many volunteers will be leaving their personal belongings in the green room for safekeeping, and we expect all volunteers to treat everyone's belongings with respect.
6. Volunteers may not remove any food from the green room to bring to the convention area. It is against hotel policy. However, volunteers may bring some snacks and drinks to their own hotel suite if they have one at Alexis Park.
7. Volunteers are expected to obey all general Sabakon convention rules, as well as the rules of the hotel, Alexis Park.